NEW
T-Cut Scratch Magic Pen
T-Cut Scratch Magic Pen will disguise scratches & stone chips in one easy application. The clear formula is suitable for all paint colours and the fine tip allows accurate repair with no mess.
The Science behind the magic…
The T-Cut Scratch Magic Pen works by scattering the reflected light and deceiving the eye, hereby reducing the appearance of the scratch.
Deeper scratches e.g. through to the primer or metal will require application of paint etc.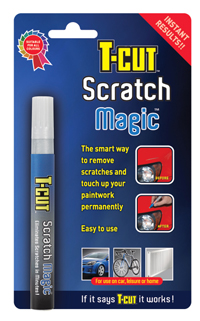 Here is a short video of how the pen works.